Rishikesh is a small, religious and highly vibrant town set in a valley, close to the state capital of Dehradun, has gained fame for various instances over time. Named after Lord Vishnu, Rishikesh is a major religious destination for the Hindu people, as it is at the beginning of the Chota Char Dham. However, Rishikesh in itself is a well kept secret, having a lot to offer its visitors.
1. Lakshman Jhula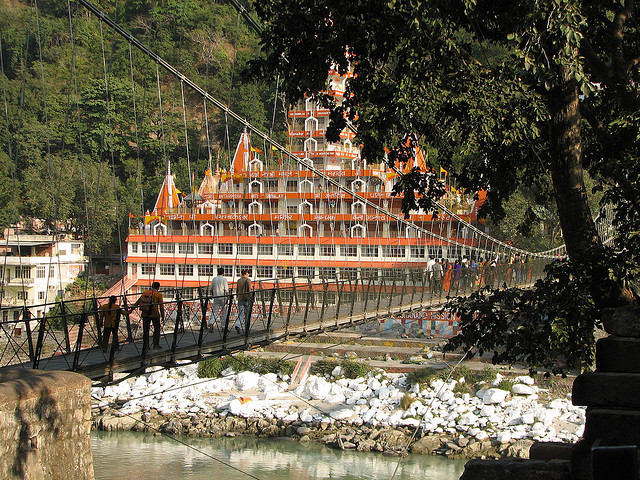 Photo by McKay Savage, CC BY 2.0
Lord Ram and Lakshman, on their mission to rescue Sita from the clutches of Ravan, had to cross the Ganga. It is believed that Lakshman had crossed the Ganga on a jute rope at the point where the iron suspension bridge of Lakshman Jhula is constructed today. Breathtaking views of the Ganga are to be had from the centre of this bridge. Miraculously, despite the vast numbers that flock to the Jhula each year and the unsteady nature of the bridge, the Lakshman Jhula has stood strong, except during the floods of 1924, when it was badly damaged and had to be reconstructed.
2. Paddle India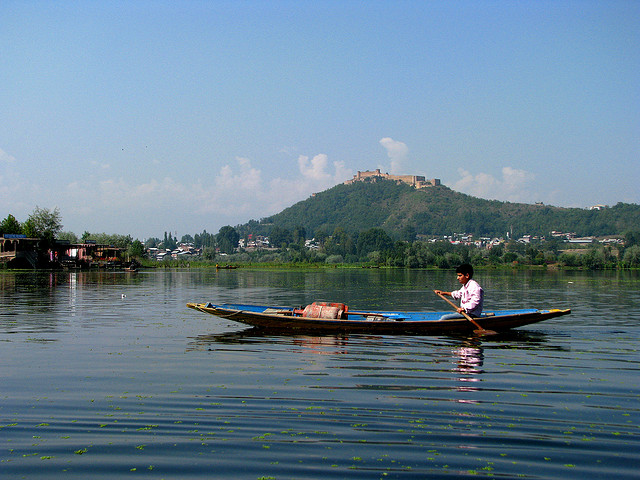 Photo by McKay Savage, CC BY 2.0
Rishikesh is a place for those that love adventure. Since the town is located around the ideal part of the Ganges with rapids that are exciting but not dangerous, the place had gained fame for its river rafting expeditions.
Paddle India is a group of professional and trained river rafters that take families and other vacationers on river rafting expeditions. They provide the visitors with rafts and rafting gear and teach you basic guidelines and ensure your safety. Their only priority, they claim, is to make everybody they serve fall in love with the river and with rafting like they have.
Other than rafting, Paddle India also organises other outdoor activities such as trekking. They are known for taking one through marvellously scenic routes that provide an up close and personal experience of the Garhawl Mountains.
3. Jumpin Heights
We have sports and fun activities for the family and for friends. And then there are extreme sports, for those who truly love the thrill of new and crazy experiences.
Set up in 2006, Jumpin Heights is India's first extreme adventure zone. It was built with the vision of improving India's reputation of low safety standards and low quality equipment, for promoting the popular sport of bungee jumping, and also for showcasing India's natural beauty. Thus, its infrastructure was designed by professionals from New Zealand, who have also trained the staff. The most famous attraction there is of course bungee jumping, which, from a height of 83 metres is India's highest bungee jumping point. Then there is the flying fox, which, at 150 km/ph is Asia's longest. Last but not the least, there is the giant swing, which, at 83 metres, is again India's highest.
4. The Beatles Ashram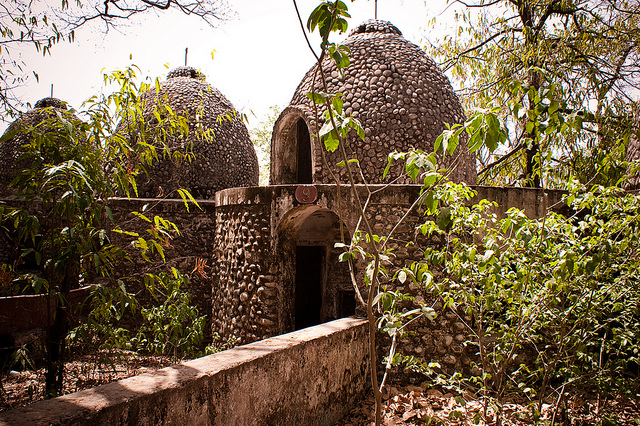 The Maharishi Mahesh Yogi Ashram, more famously known as the Beatles ashram, was the place which the Beatles themselves stayed in, and were inspired by, so as to go on to write some of their most iconic songs such Dear Prudence, Ob-La-Di Ob-La-Da, and Revolution, and forever change the Western attitude towards India and Indian spirituality.
The Beatles arrived in 1968 with their wives and girlfriends to attend the Transcendental Meditation. Interestingly, other famous musicians like Donovan and the Beach Boys were also present there at the time. The Beatles stayed on and meditated for almost two months, and claimed to have been spiritually enlightened during this time. This site has become a pilgrimage for musicians from across the world.
5. Swarg Ashram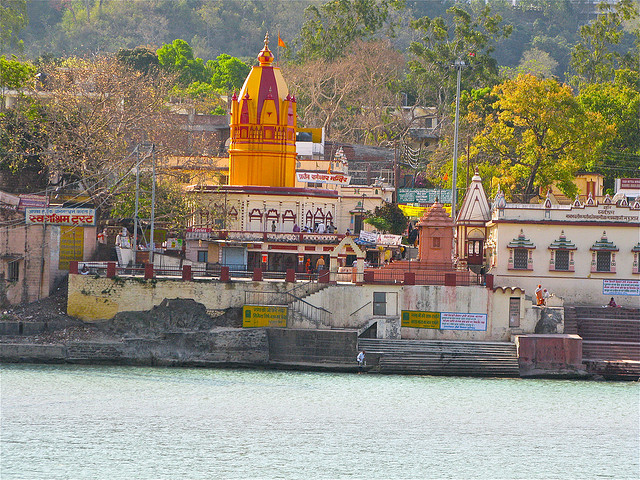 Photo by Ken Wieland, CC BY-SA 2.0
Rishikesh is a religious site unlike many others. It is famous not for temples and destinations, but for meditation and yoga. Indeed, it is the epicentre of yoga in India, and Swarg Ashram is where is all originates. An ancient ashram, which is mentioned even in our scriptures, the Swarg Ashram is located close to the Ram Jhula on the banks of the Ganga. Once you enter, it won't hard to understand why this is a spiritual hub. It is simplistic but vast, and its abundance in natural beauty provides it with a serene environment like no other.
Rishikesh is a place that is truely alive and delves in history, mythology and spirituality. Anyone who steps into this town leaves feeling more connected with their body, mind and soul.