Uttarakhand, a beautiful state of ascending mountains, is known for housing the ultimate pilgrimage in Hindu mythology, which is said to lead to the abode of the Gods itself. When one sees the large number of hill stations, each more picturesque than the last; they would certainly understand why the Gods themselves would choose to live here.
1. Mussoorie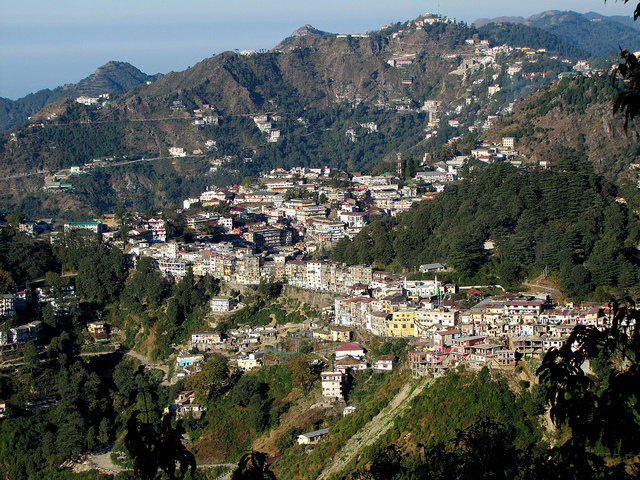 Photo by Paul Hamilton, CC BY-SA 2.0
Famously known as the Queen of the Hills, Mussoorie is famous for not only its natural beauty but also the relics of Colonial times. Located with proximity to the state capital of Dehradun, Mussoorie's biggest attraction is the Mall Road, a long and very quaint market that contains various antique stores, jewellery and garment stores, old and new eateries, including cozy little cafes, amongst other attractions here and there. Many famous personalities have lived and worked here, including acclaimed writer, Ruskin Bond and Sir George Everest, who gave his name to the Great Mt. Everest. His house is now a heritage site located amidst a picturesque setting. Another must visit is the Rokeby Manor and Cloud End, both restaurants that have had a legacy for their natural ambience, beautiful architecture and of course, mouth watering cuisine.
Mussoorie is also marked with a few scenic waterfalls, including the Kempty Falls, Jharipani Falls and Bhatta Falls.
2. Nainital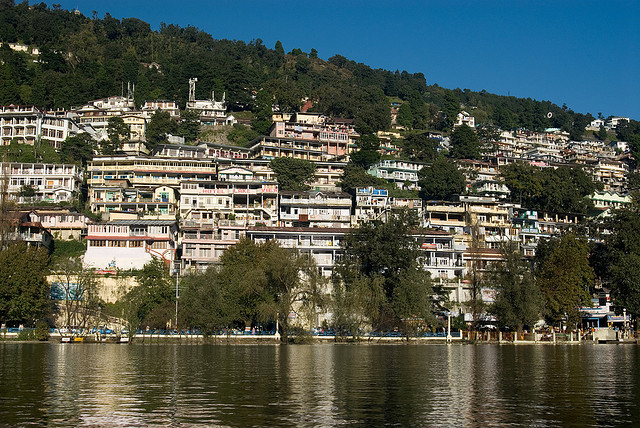 Photo by Sanjoy Ghosh, CC BY 2.0
Named after the eye of the Goddess Shakti, Nainital is a valley that centers around a vast pear shaped lake, and is surrounded by majestic mountains on all sides. Established by the British powers in the 1800s, Nainital started with a single building, the Power House, and has now grown to a full-fledged township, with much daily hustle and bustle in the midst of nature. Nainital is also a major centre for education, and has some of the nation's premier schools as well as historic libraries.
3. Auli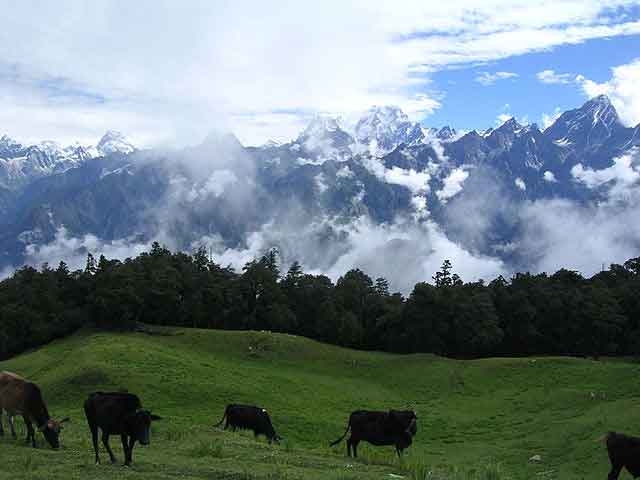 Photo by Induhari, CC BY-SA 3.0
One of the major ski destinations of the Himalayas, Auli has made a name for itself for other adventure sports too, such as trekking and Skiing. Located en route Badrinath, Auli is surrounded by the famous Mana, Kamet and Nanda Devi peaks and also has an artificial lake, which make for an excellent ambience while engaging in extreme mountain sports. The best time to visit Auli is said to be the end time of winter, until spring begins in March.
4. Binsar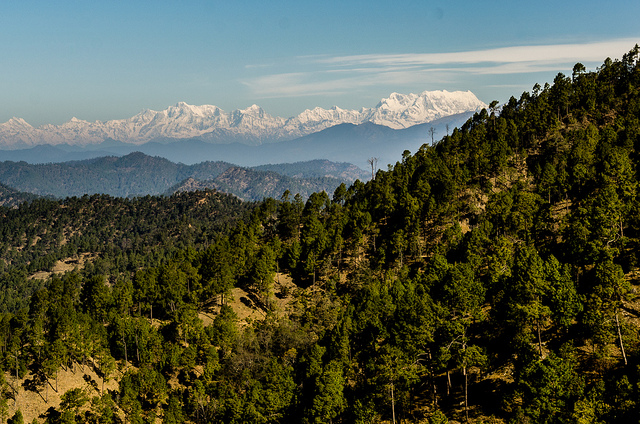 Photo by gkrishna63, CC BY-ND 2.0
One the highest point in the Kumaon region, Binsar is not only famous for its views of the Kedarnath Peak, Shivalinga, Trishul and Nanda Devi, but also for a wildlife sanctuary built there. It is about 50 species of flora, all listed in the local zoological and botanical museum. Species of animals include leopards, black bears, barking deer, musk deer, goral etc. Species of birds include tits, blackbirds, laughing thrush, woodpeckers and magpies.
5. Lansdowne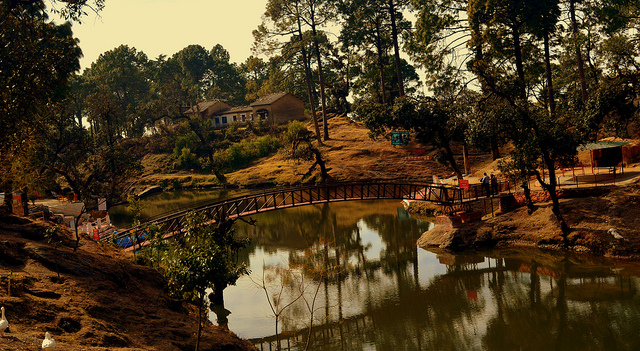 Photo by Priyambada Nath, CC BY 2.0
Founded in 1887 by Lord Lansdowne, this scenic hill station was originally meant to be made into a militant town, to be used to recruit the Garhwal Regiment. Today it has a major cantonment area and is the seat of the command office of the Garhwal Rifles. A War Memorial and a museum complete the defense environment of the area. Other than this, there are various natural attractions such as markets, eateries, set to a view of Shivalik Hills. Santoshi Mata Temple, Bhullatal Lake etc. are some of the must visit spot in this quaint yet scenic hill town.
6. Valley Of Flowers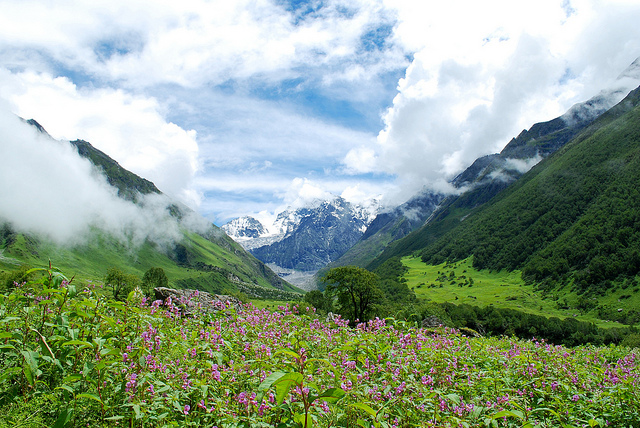 Photo by Alosh Bennett, CC BY 2.0
The Valley of Flowers is an offbeat location that has been untouched by civilization, and is still a riot of natural colors, sights and sounds. A major Biosphere Reserve Park, the Valley of Flowers is home to indigenous species such as black bear, brown bear, snow leopard, musk deer, blue sheep and red fox. However, its main attraction that catches the eye is the vast number of flowers; perhaps in much higher numbers than a person has ever seen at one point.
7. Ramgarh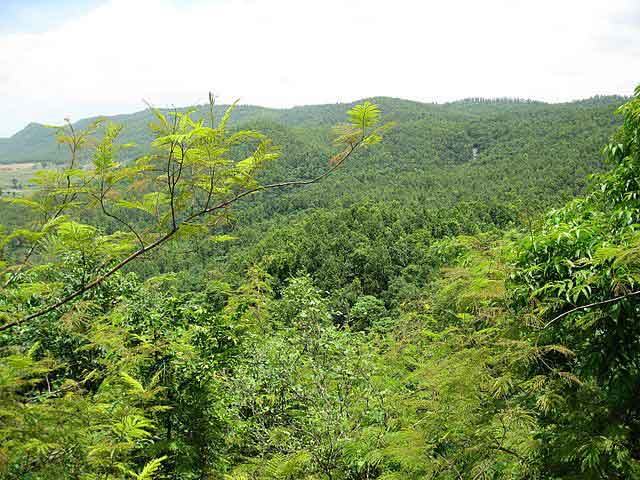 From Public Domain, via Wikimedia Commons
If one is looking for vast apple, peach, apricot and pear orchards set on a green hill to the backdrop of snow covered mountains, then Ramgarh is the place to visit. A feast to the eyes, with cold, clear air and natural colours of fruits, flowers and fauna all around, Ramgarh is also known as the "Fruit Bowl of Kumaon". This area is known to have inspired famous poets in the past, such as Rabindranath Tagore.
Uttarakhand is a nature lover's paradise. Every corner is set to the backdrop of greenery and majestic mountains and lakes. This is the place to visit for anyone looking for solitude and serenity.