Jaipur, India offers the tourist a stirring time mentally, as it slowly unravels to one the mysteries behind each historical artefact it flaunts. There's the famous Hawa Mahal, with a backstory that would delight you with its flamboyance. There's also the very famous Jantar Mantar, that would have graced your history books, and is meant also for astronomical observation. Jaipur has a bevy of historical attractions, forts and palaces, but in no way shies away from the very modern grandeur of places like museums and biological parks. This is the place to be headed to if you want a beautiful city steeped in impressive culture. The best time to visit Jaipur would be from November to February, in the winter season.
[toc]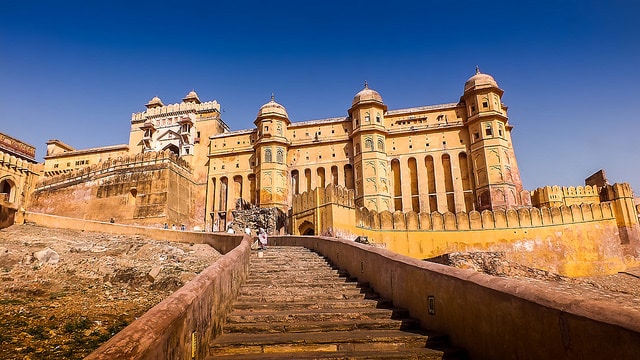 | | | |
| --- | --- | --- |
| Months         | Conditions   | Our Recommendation |
| October to March | Winters are the most perfect time to visit the pink city. You will surely enjoy every bit of it, from shopping to partying, from street food to sightseeing. Fests like Literature Fest and Elephant Festival are held during this part of the year. | Popular Tourist Season |
| April to June | Summers are hot and scorching here, but if you are planning to visit this city, you should surely visit the Gangaur festival which is celebrated in the month of April. | Ideal Time |
| July to September | Monsoon times are little less preferred, but the city looks beautiful in rains. You will also get some good discounts, which attracts budget travellers during this part of the year. | Off Season |
Jaipur being located in tropical desert Rajasthan has the kind of hot summers to match. During its summer months, the temperature can rise up to 45 degrees, almost the highest in very hot India. Therefore, understandably, the tourist frequenting is low this time, as the heat makes residence uncomfortable and oppressive, and makes sightseeing almost impossible. The season is also extremely dry.
Monsoons in Jaipur would not be the most ideal time to pay it a visit, either. The monsoons rarely experience too much rainfall, and the climate remains dry if a little cooler than in the summer months. The tourists are still made uncomfortable by the heated dry climate, with no much rains to freshen beauty. Moreover, the rains sometimes hamper sightseeing.
Winters in Jaipur are the ideal time to take a tour to it. The climate changes from oppressively hot to pleasantly cool, and the heated tinge remains no longer. There are no rains as well, and the weather makes it ideal for sightseeing. It is by far the most popular season with tourists. March is one colourful month, with festivals lined up.
How to Reach Jaipur
Jaipur is connected to air traffic through the Sanganer airport, located fairly close to the city. It is connected to domestic airports which in turn are connected to major international flight destinations. Jaipur can be reached by railway as well, from other Indian cities, and by road, you can take buses from cities like Udaipur and Gurgaon among many others.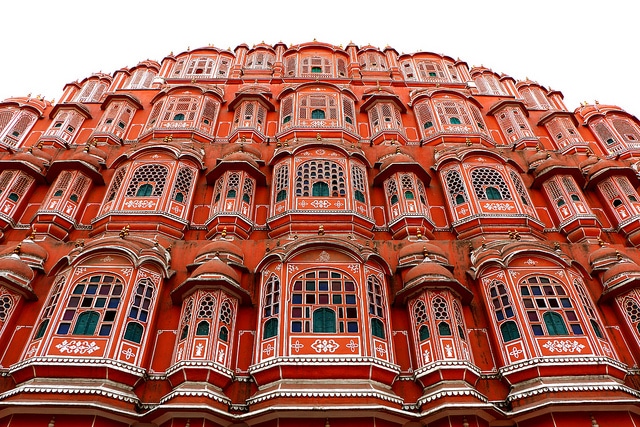 What to Do and See in Jaipur
This palace, one of the most magnificent architectural specimens of ancient India, was constructed so that household ladies could take a look at the world below without getting peered at in turn. Such grandeur! Also, it has the pinkish colour so indigenous to Jaipur. A major tourist attraction.
This is certain to have featured prominently on all school history and general knowledge books. This is frequently counted among the few best Indian landmarks, and is a labyrinth per excellence. This is an astronomical observatory constructed by Indians of old.
Rajasthan is famous for palaces, and this uniquely beautiful one has splendid architecture and history, and to top it all, is located bang in the middle of a lake!
Jaigarh and Amber forts, historic forts on top of tall hills that enabled one to look all around and plan strategy in times of war.
Maybe the most noteworthy palace, it is from the 1700s, opulent to a fault, and has now also a museum to offer a peak into the gorgeous interiors.
Jaipur is one of the grandest places extant in India today, what with all the lavish forts and palaces and observatories that are world class. It talks of unmatched lifestyles of the monarchs who have lived and ruled the magnificent place, and has something in store for the history buff as well as the astronomy enthusiast. While visiting this beauty of places, make sure to not get caught into one stifling summer, though. Use this guide to plan ahead and make the most of your vacation. Jaipur will be one memorable ride!