There are many parts of India that I've been wanting to take a vacation too, and now I think I have a new candidate for the first place I'd like to see (although it is a tough race in mind, my top five places in India to visit seem to change from day to day!).  I'm talking about the state of Uttarakhand, which is located in the northern areas of India. There are a plethora of unique experiences, sights, sounds, smells, tastes and textures, that I know I'll never be able to experience anywhere in the world. And while I know that India has some of the most jaw dropping ancient temples in the world, the one's I've heard of in Uttarakhand have a certain charm without having as many stylized works of art or colorful displays. It would seem like the architecture itself is the real physical draw, though of course the spiritual draw will always supersede a cosmetic or artistic charm.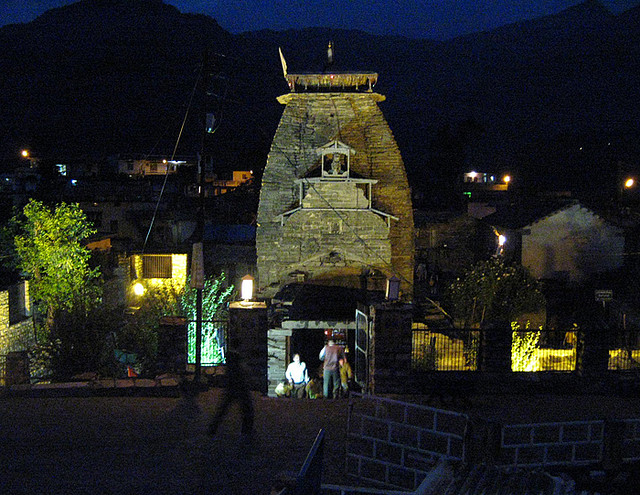 Here is a great night photo of the "Gopi Nath Temple Gopeshwar" in Uttarakhand. I think the light being focused on the temple itself really accentuates the aesthetic qualities of the beautiful temple. If you look in the background, you can actually see some of the mountain ranges, hidden in the dark. © Neeraj Rawat.
I don't think I've properly hyped up Uttarakhand enough yet, but I should mention that it has been called "Land of the Gods" because of the series of Hindu temples and the beautiful landscapes. In fact, in the hill station town of Nainital, near the foot hills of the Himalayan Mountains, the landscape is so stunning that the name definitely suits it perfectly. Considering that the population hovers below ninety thousand people, I'm surprised that the town hasn't been heavily urbanized with the thick tourist traffic. I suppose I'll want to visit there soon, since so many beautiful places often feel too congested once they become popular.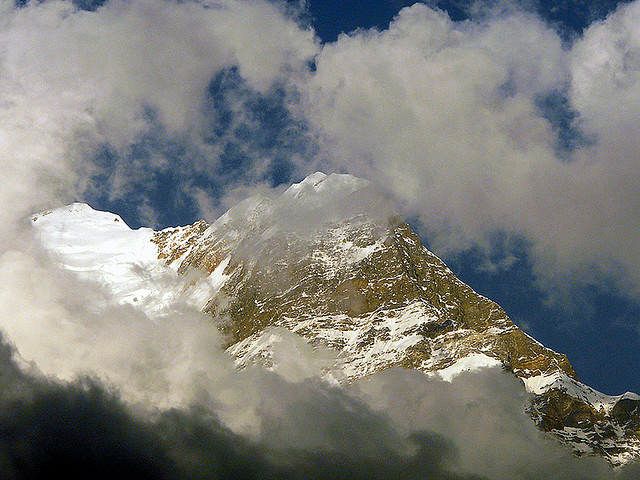 This photo is of one of the many enormous mountainous landscapes that encompass many parts of the horizon around Uttarakhand. A photo is gorgeous indeed but I can just imagine what the scale must feel like to actual see a Himalayan mountain up close with my own eyes… © Mahindra Homestays.
I know I'll likely just stumble around with a camera, looking like an obvious tourist, but I doubt I'll feel self-conscious since I'll have the experience of a life time all around me!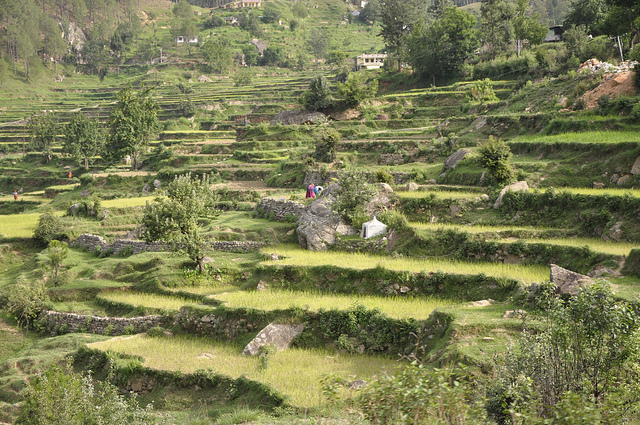 Here is an elegant photo of some of the lush and rolling (almost wave-like) hills and plateaus that one can find in Uttarakhand. It's so beautiful it seems like a fictional fantasy world with elves… Which reminds me, don't spoil that new movie for me, I haven't seen it yet! © rajkumar1220.