Motorcycles in India are popular for their craze among teens. From professional sports to daily commute, Indians are familiar with all forms of biking.
Bikes are one of the major transport modes used in India. Biking gear definitely includes the helmet irrespective of the purpose you use your motorcycle for.
The primary purpose of the helmet is to keep you, especially your head safe from any unexpected injury. Did you know that helmets are known to reduce the risk of head injury by 69%.
If you're wondering whether there are different types of bike helmets, let us say "Yes, there are.". You can check out six of them here.
1. Full Face Helmet
A full face helmet is the safest option you can pick. With the protection all around your head, the incidence of head injury is the lowest with full face helmet (FFH).
Face, jaw and neck injuries stand next of head injuries which accounts for nearly 36% of the 'helmet-less' injuries (for riders below age group of 40). Wearing a full-face helmet is 3 times less likely to have injuries to the face, compared to wearing other type of helmets.
The full face helmet is the only type of helmet that acts as the strongest guard to one's head, face, jaw, chin and neck.
The helmet shields the whole head and comes with a movable face shield a.k.a visor which can be opened or closed depending on the ventilation your face requires. The height of chin-protection area varies with each helmet and one can pick as per one's needs.
This helmet is ideal for bikers of all sorts. Whether you're on that dream trip to Leh or driving your motorcycle for regular office use, the full face helmet has got you covered. Professional bikers can opt for a full face helmet without a movable visor with increased chin height.
With the increasing technology, full face helmets are now being equipped with LED lighting, waterproof coating, bluetooth connectivity, turn signal light etc.
The only drawback of FFH helmet is its heavy weight. But considering the overall protection it offers, this drawback should be ignored. Though, a few manufacturers did come up with designs to eliminate the problem of bulkiness but the result is still not satisfactory compared to its price.
Tip: In case you are riding your bike to office and keeping your helmets with others, make sure to mark your helmet, maybe add a sticker, so that it doesn't mix up with others.
2. Modular or Flip-up Helmet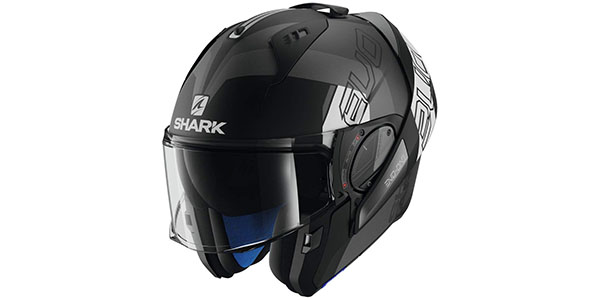 Modular or flip-up helmets are multifaceted (like a convertible) and can be considered as an helmet which is between the full face helmet and open face helmet but with a chin bar.
The chin of the modular helmet is movable and the helmet can be set in two positions closed and open. Modular helmet in its open position lets you take quick bites or a puff or have a drink in between your long biking trips without having to remove the helmet. This is best helmet for long bike trips.
Bikers who use glasses need not remove them or use contact lenses to slide their head comfortably into the helmet. Yayy! Something out of the #GrowingUpWithGlasses line.
The level of protection is obviously not as that of a full face helmet. When compared to an open helmet, the modular helmet is way better even in its open (or up) position. Remember that jaw, chin and neck injuries may not to be prevented when the modular helmet is worn in its open position. This helmet too is now being designed with features with Bluetooth connectivity etc.
On the contrary to weight, modular helmet always weighs more than a full face helmet, almost by additional 300g to 500g, because of the extra attributes it is fitted with. Though, here are some of the lightweight ones.
3. Open Face Helmet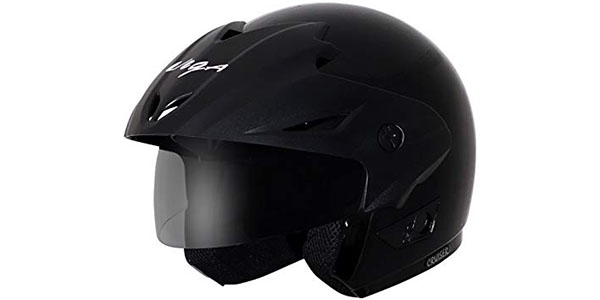 Open face helmet is also called a 'three-quarters' helmet which is similar to a full face helmet in terms of rear structure and rear protection.
Bikers who want to feel the touch of the sun and wind on their skin, opt for open face helmet. Open helmet is a favorite for those who drive scooters, which makes sense as a scooter does not rise to an immense speed, implying the probability of severe accidents is relatively less, i.e. head region is perfectly protected, so less likely to have brain injuries in accidents. However, due to the absence of a chin bar, jaw injuries cannot be escaped in a likely event of sever accidents.
In open face helmet (i.e. ¾ helmet), partial visor is movable as such it does not cover the face completely due to which bikers compliment their face with sunglasses to add extra protection from sunlight and dust. However, the visor can be replaced with a much-effective full face shield. Some visor are resistant to UV rays and also has an option to add shades/films of different colors (black, gray, other colors) on it according to intensity one prefers. However, adding shades/films can become a trouble when riding at night, so better to avoid it.
Absence of a chin bar reduces the weight of the open helmet, but not to a considerable extent.
4. Half Helmet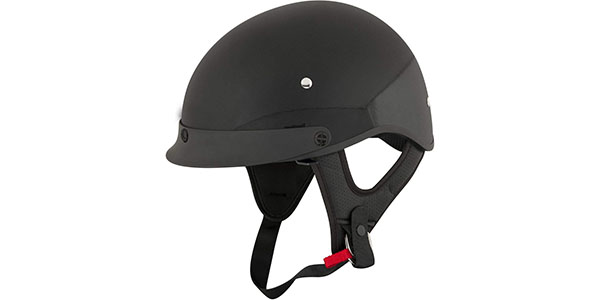 In the United Kingdom, the half helmet is popularly known as Pudding Basin or TT helmet and was often spotted worn by British road racers of the olden days. In the United States, it had another name "Shorty".
The structure of a half helmet or "brain bucket" (as it appears) is similar to a full face helmet but only for the rear top of the head and resembles an open helmet on the front side. The helmet covers the upper half of the head and up to brows on the face. Sunglasses or goggles are a must to protect the eyes from dust and wind. Visor or face shield is absent.
There is zero protection from facial injuries and the absence of chin bar implies no protection from jaw or chin injuries too. Absence of a visor gives constant airflow to the face of the biker.
As half-helmet protects only half of the head, it is not advised to use it for long road trips. Due to the lack of assured protection, usage of this helmet is opposed by road safety organizations and governments in many countries. Half helmet is only for those who drive short distances.
Lack of space on the surface of the half helmet leaves no chance to upgrade it with any additional features like Bluetooth connectivity.
Though, in India, there are no restrictions on the usage of the half helmet, as long as it has the approved ISI mark. However you won't find half-helmet from any standard companies like Steelbird, Vega, Studds because half-helmet won't get ISI approved due to safety risks. So, avoid this helmet at all cost as you are also at risk of getting fined (challan).
5. Off-road Helmet
Here comes the bad boy of the helmet line…
The off-road helmet comes with improvised features of a full face helmet. (Full face helmet is an everyday thing while an off-road helmet is to say 'Hey, I am here for your complete safety & comfort.')
Off-road helmet or MX or motocross helmet is usually made of light-weight materials to reduce the amount of burden for the biker who drive on not-so-smooth roads, as such less strain from the helmet is much loved.
It has a full enclosure to the head and the face. The olden models did not have a chin bar but the latest ones do. The chin bar is set at a comfortable height for the bikers riding on rough roads.
The visor is elongated but not ideal for complete eye protection. Make sure you buy the right kind of goggles. Yep. Despite having a full visor, goggles do fit into the space between your eyes and the helmet. But the shapes may vary and you better check beforehand.
The space between the visor and the chin allows dust particles and hence goggles or sunglasses are compulsory. However you won't feel suffocated as it has proper ventilation which is good for off-roading in India where sun does not just kiss but kicks occasionally.
6. Dual-Sport Helmet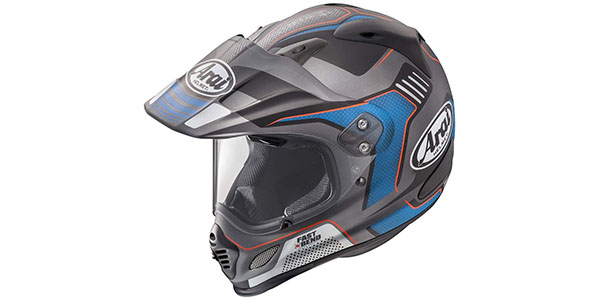 As the name suggests, the dual-sport helmet is a hybrid of the off-road helmet and the regular full face helmet.
The exterior structure, particularly the outer layer is built stylishly like an off-road helmet and the inner soft padding is as plush as a full face helmet. Style comes together with comfort in dual-sport helmet. What more could we ask for?
The outer frame is made tough to withstand heavy blows. The inner space and cushion allow you to have great ventilation and even fits sunglasses.
When visor is up it gives maximum airflow and when it's down, it feels soundproof.
You can use this for everyday, short-distance journeys or long road trips. The word dual stands true to its purpose.
Remember when we talked about full face helmets being heavy? You have the answer now. The dual-sport helmet offers you a light-weighing full face helmet that even supports off-roading.
Materials Used in Making Bike Helmets
Now that you are familiar with the common types of motorcycle helmets available in India, take a look at the materials used in making them.
There are various materials that are used in the manufacturing of helmets which contribute to sturdiness and weight (which in turn affect the safety of the biker).
The outer covering is made with polycarbonate usually or with fiberglass sometimes. Polycarbonate ensures the helmets remain intact even in case of fatal accidents thus keeping the skull safe from severe injuries.
These days, lightweight polycarbonate is being used to reduce the weight of the helmet. Luxury helmets use Kevlar to reduce the weight but remember they fall under 'luxury' range.
Styrofoam has been used for the middle layer since ages but foam is proven to be much softer and sweat absorbent compared to Styrofoam. Foam also causes less irritation to the skin. Styrofoam is cheaper in price than foam.
The chin strap is made with polypropylene and the comfort at the chin area is important especially when the biker is on road trips.
Visor is made of lightweight polycarbonate and is customized to semi-transparency and no-glare. It is ideal to replace visors when there are scratches and hampers visibility. The colors coated on the helmet's surface can be chosen to match your bike or for better visibility to other drivers.
Using a helmet is as important as following other traffic rules. With so many choices available in the market, it is important for a biker to choose the right kind of helmet by keeping his speed and style of biking in mind. Speed does not kill if you are in the limit and gear yourself up with all the safety measures.
Drive safe and sound.
IMPORTANT
From January 15, 2019, only ISI hallmarked helmets are allowed to be sold in India, as such it is better to buy helmets that already follow these guidelines.