The abode of the holiest river of the Hindu mythology, Uttarakhand boasts of giant mountains, hill stations and jaw-dropping serene landscapes. Carved out of 13 districts in 2000, Uttarakhand is also famous for the adventure sports, camping and trekking. However, what places Uttarakhand uniquely in the map of India is its fame as a pilgrim centre with thousands of devotees flocking to the numerous temples and shrines in the state. The famous 'Char Dham Darshan' encompasses the holy sites like Yamunotri, Gangotri, Kedarnath and Badrinath and each site is dedicated to a specific deity. Although it requires mental toughness to make the steep climb up to the shrines, thanks to the amazing network of roadways in the state that makes it convenient for the commuters.
Geographical Location
Uttarakhand is one of the most beautiful states in India. It shares its border with Nepal in the east, China in the north, Himachal Pradesh in the west and Uttar Pradesh in the south. The rocky terrains make it inconvenient for the construction of railways and airport. Thus, the state is connected to other parts through an excellent layout of roadways. Uttarakhand roadways span over 28000 kms. Dehradun, the capital of Uttarakhand is around 250 kms far from Delhi and 163 kms from Chandigarh. The proximity to other important cities like Amritsar, Meerut and Shimla makes Uttarakhand a prime business and industrial location.
Uttarakhand Roadways Service
With a vision to provide commuters with the best bus service, Uttarakhand Transport Corporation (UTC) offers a wide array of choices to cater to the demands of the passengers with five types of bus services. They can be as comfortable as AC Volvo buses with reclining seats to low-floor city buses. Here are the five types.
1. Uttarakhand Roadways Volvo Bus Service
Uttarakhand Volvo Bus Service provides luxury travel option to major cities of Uttarakhand from Delhi, Jaipur, Gurugram and Katra. If you are travelling through hilly terrains, your posture in a sleeper bus can be a bit irritating. With Volvo buses, your sleeper ride will be breeze smooth. You can take a nap without feeling any jerk. Volvo buses operate from 5 AM to 11:59 PM between Delhi and Dehradun and there is at least a bus in every one hour.

Haridwar is also well connected to Jaipur and Delhi by the Volvo buses.
The buses can be booked online on the UTC website or on redBus website.
2. AC Janrath
These buses are an initiative of the Uttarakhand government and they can be placed between deluxe and Volvo buses in terms of their comfort and price. The seats are reclining to a similar degree like the Volvo buses.
3. Deluxe Buses
If you are looking for well-maintained buses with sleeper facilities at an affordable price for your long journey, a deluxe bus is a great option for you. The frequency of these buses in Uttarakhand is very high and caters to more cities and locations in north India than that of Volvo or AC Janrath.
4. Ordinary Buses
The ordinary buses can be rated low in comfort but they provide enough space for luggage and are relatively cheaper than the other options.
5. Low-floor Buses
These buses have no steps between the ground and the floor of the bus. These buses ply in association with JNNURM to cater to the transportation needs of the urban citizens.
Uttarakhand Online Bus Booking
The official website of Uttarakhand Transport Corporation (UTC) provides a safe and easy way to book buses online. However, you will find a limited number of government buses to book on the website. redBus is the world's largest online bus ticket booking platform. Its interactive website allows booking both government and private buses on its website. It is also available on Android and iOS platforms as well. Further, you can benefit from occasional cashbacks and discounts on their website. Here are the steps to book a bus for your itinerary on the official website of UTC.
Follow the following Steps to Book the Bus Tickets Online
Step 1
Visit the website https://utconline.uk.gov.in
Step 2
The website offers several options to commute to your destination. You can login to the website by clicking on 'login' button if you already possess an online account. Please skip steps 3 and 4 if you already have an account.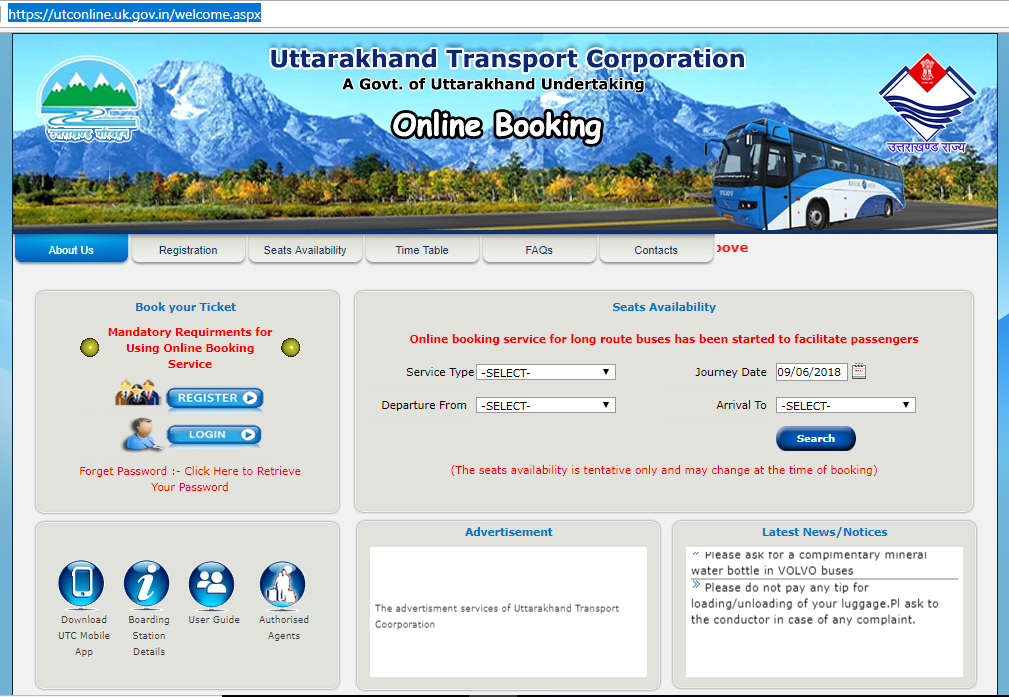 Step 3
If you don't have an account, you have to register with your personal details like email id and phone number. You will receive the password to your valid mobile number and the email you entered. This is required for logging in to the system for the first time.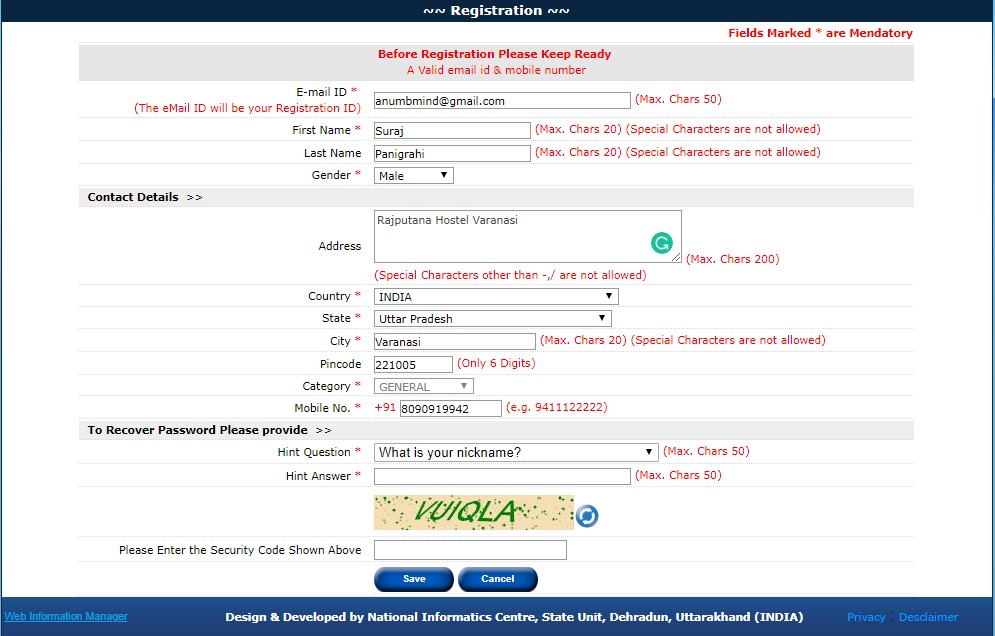 Step 4
When you log in to the website for the first time, you will then be asked to change your password as per your convenience. Now, re-login to the website to proceed with bus booking.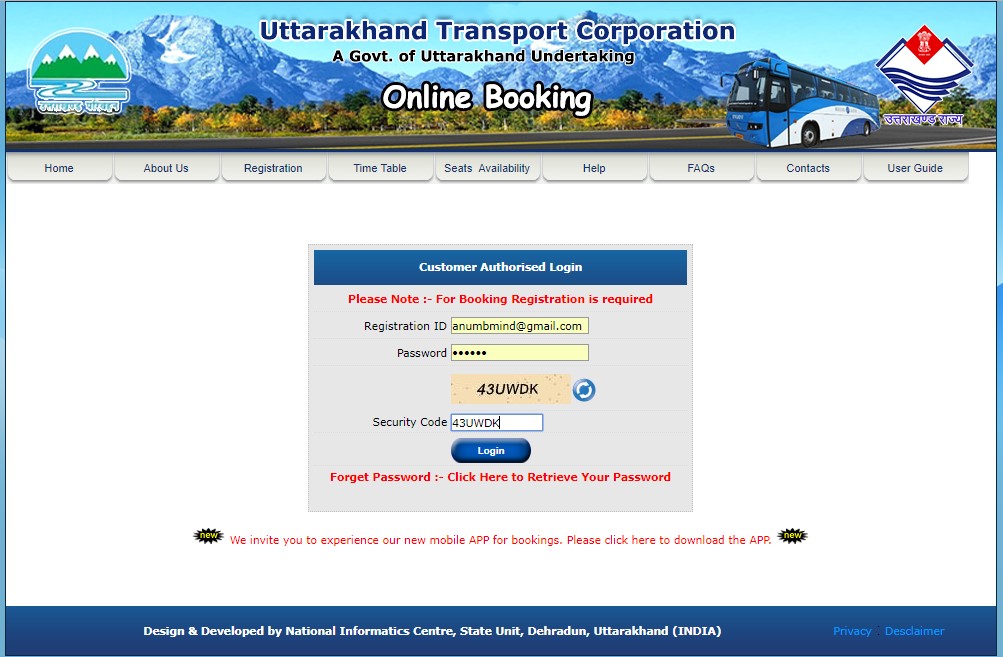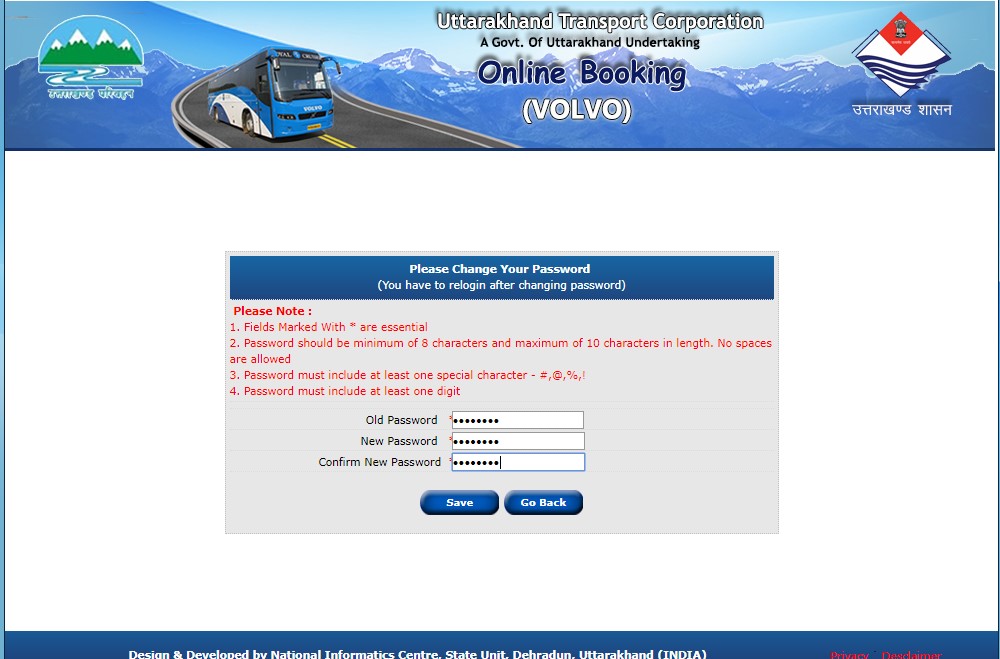 Step 5
In the booking page, click on 'Book Ticket'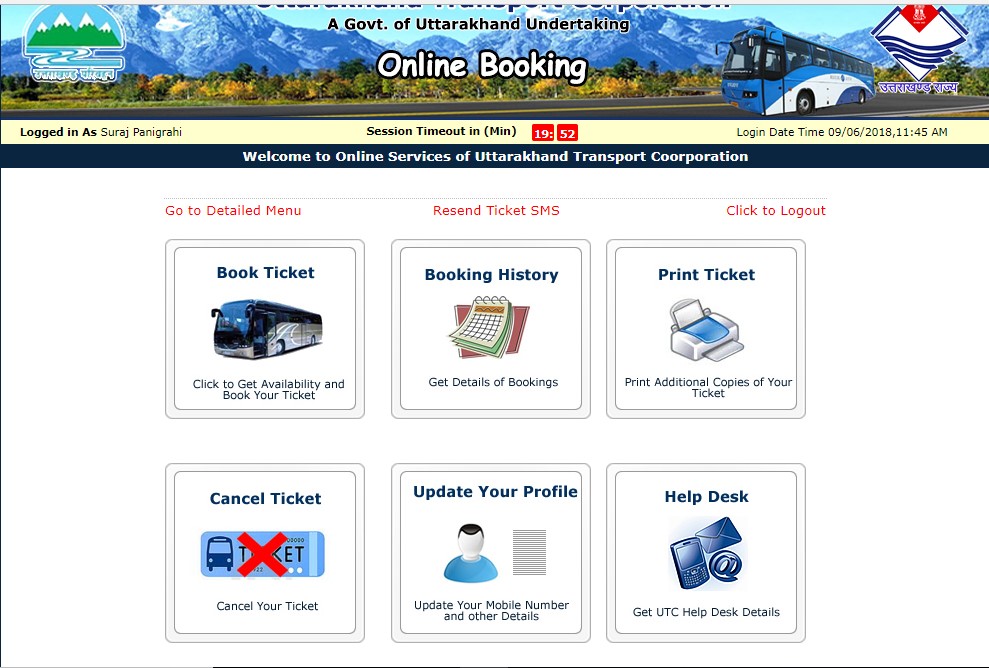 Step 6
Fill in your travel itinerary stating the source, destination and date of journey and click on 'Search'. You can choose from a range of bus types like Volvo, AC Janrath, Semi-Deluxe and ordinary buses. You will find a list of buses showing the seats available. Select the bus convenient to you and click on 'Proceed'.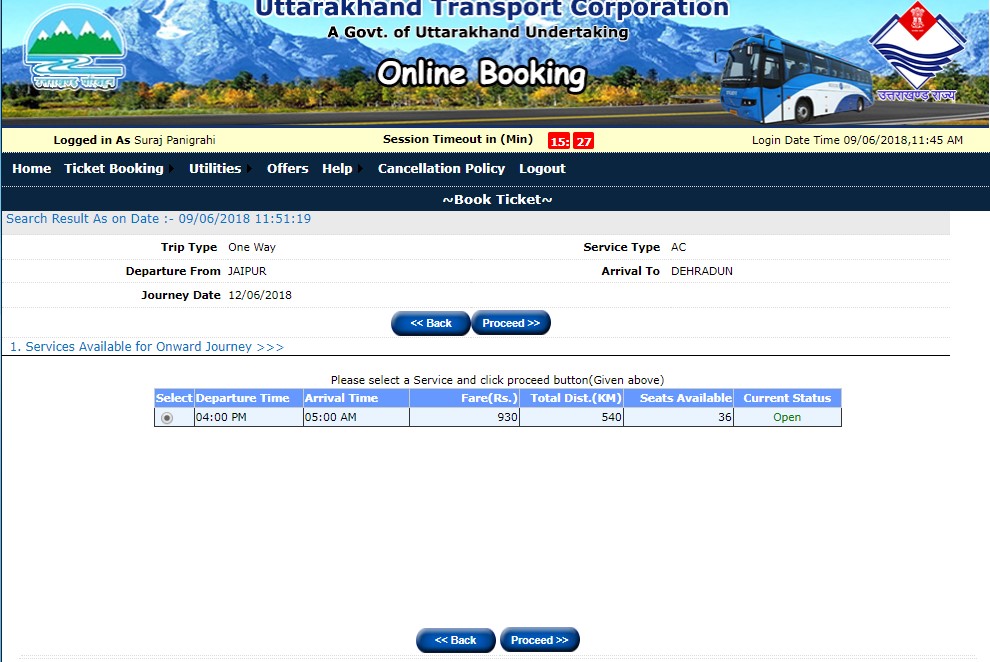 Step 7
Now select your seat and your point of boarding. Click on 'Pay and Proceed' to make payment.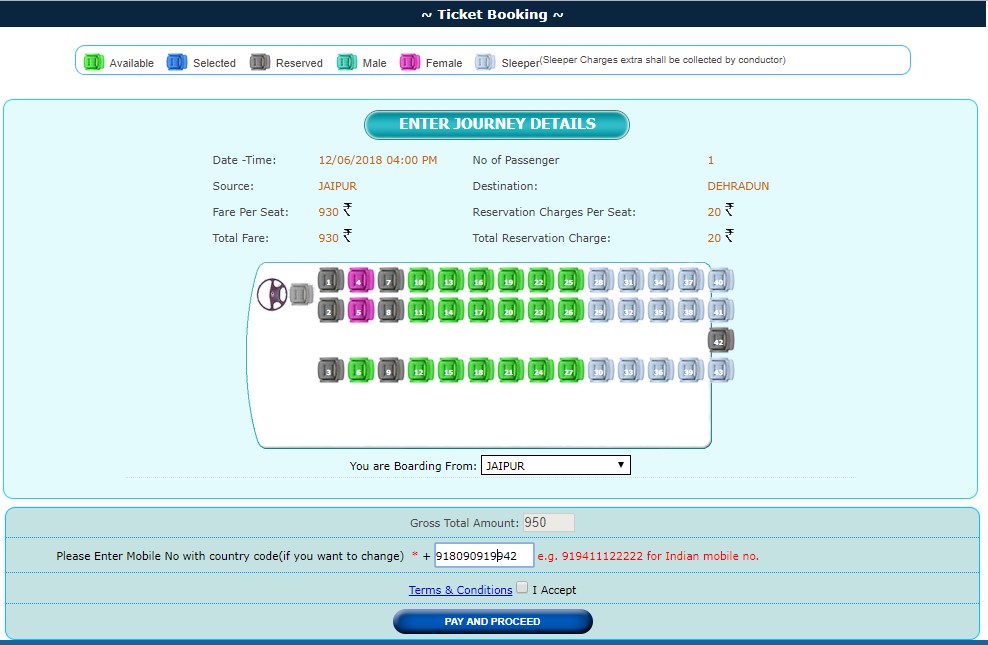 Step 8
To make booking easy, Uttarakhand Transport offers online payment options using credit and debit cards. Enter your card details and make a payment. The website is safe for online payments as your personal details are kept confidential. Once the payment is successful, you will receive your PNR number for travel. You can also take a print out of your ticket. The ticket will be sent to your registered email id as well.
Other Transportation Options
You can also rely on some finest cab rental services with options to book one-way rentals. Currently, the services are available in Delhi NCR, Haldwani, Nainital, Ranikhet, Kafra, Dwarahat, Almora, Kotdwar, Haridwar, Rishikesh, Dehradun and Mussoorie. The cabs are available at convenient timings and the drivers are well equipped with the hilly routes. A lot of private travel agencies currently provide cab services.
Even redBus provides an option to book cars. However, it offers special rebates for booking buses for pilgrimage. Since, thousands of Hindu devotees flock to Haridwar, Rishikesh and 'Char Dham' throughout the year and visit other places of worship, the pilgrims may find it a convenient choice.
If you book a seat online, you don't have to carry print-outs. The conductor has a list of all the passengers and you can show your PNR number and a valid identity proof like Aadhar Card or Voter Card. The UTC website also lets you check for available seats without login. Currently, UTC operates over 1400 buses and serves the travel needs of over 100,000 commuters daily. It has its corporate office at Dehradun, three operational divisional offices at Dehradun, Nainital and Tanakpur and 18 depots.
Uttarakhand bus service has recently undergone several changes to improve the passenger experience like the launching of its own packaged drinking water 'Parivahan Neer' and a free Android app for Uttarakhand bus booking online. The app can handle almost 2000 transactions simultaneously. So, your itinerary planning to visit Uttarakhand is now hassle-free and accessible. Happy journey!